Monday, March 18th, 2013
I have a rule when it comes to knitting:
I don't knit for people/pets I'll never meet. It's a self-preservation thing, really. If I won't meet these people, how can I tell they're knit worthy to me? They might be to the person asking but if that connection isn't there, than I can not make something for them. Same with pets too, believe it or not. If I won't meet their dog (most of the time it's dogs), then that says something about our relationship. If we'll never be in a position where I'd meet your dog, then, one can gather we're not friends. We might be totally cool but we're not friends. And if we're not friends, I'm not making something for this puppeh I'll never meet. (or cat but I can't say I've gotten many requests for cat stuff. And I certainly know how that'll end…making a cat a sweater….
Babies are the exception. Why?
THEY'RE HUMAN BARBIES TO KNITTERS!!!!
I can't think of another way to say it, really. I love making cabely-cardigans but I also appreciate that there isn't the pretty significant time commitment as there is with an adult. I must know the parents well enough…so as to avoid random requests "hey Laura, can you knit my neighbor's kid's granddaughter this?" and luckily, I've been able to gift two cardigans and a pullover to the short people in my life.

First off, I'll start with lil Eva's Sweater:
Remember Hurricane Sandy? Well after that
massive storm
we had last summer, and
this
happened a few doors down from me:
So needless to say I was
FREAKING OUT
when Sandy came through. I was nervous that the above would happen to us and then my brain started to get really creative–our stuff! our cats! where in God's name will all of us stay if that happened?!?!
And then I see that my ex-co-worker and his wife were heading into the hospital to give birth to their first child in the midst of this craziness:
So naturally I used their kid as a coping mechanism to get through the storm, if I can be completely honest. Instead of having a panic attack over things that may or may not happen, I made this:
Apply anxiety to a good cause!
Pattern: Assisted Hatching by Elizabeth Ditchburn Dew
Yarns(s): Cascade 220 Superwash
Colorway(s): Purple
Needles(s): US 7 – 4.5 mm
Casted On: October 29, 2012
Casted Off: November 25, 2012
Modifications: None
The one thing I nag…I mean ask for when I send bebeh items is a picture of them wearing it. I looooooooooooooooooove pics of babies swimming in an item I've made them because it means they have a lot more time to enjoy it, right? But with this particular sweater, I was nervous because it's a pullover and therefore harder to get the little one in there. dooh. So when John and Kyley sent me this picture, I was quite pleased that no bones had to be broken to get lil Eva in there:
Wook at heeeeeeeeeeeeeeeeeeeeerrrrrrrrrrrrrrrrr! Evidently she liked wearing this at a ski lodge.
And since knitting this for John's and Kyley's cutie pie, I have enjoyed getting to know Kyley. They're good peeps. Keep the pics of Eva and their adorable dog comin'!!
Secondly, we have Emily's Cardigan
I love me some fair isle. People think it's hard. It's not. It's fun. I found this pattern on Ravelry and this just looked like something my friend's Megan's and Stephane's youngest would like.
Pattern: Bláithín (junior) by Kate Davies
Yarns(s) & Colorway(s):
Patons Classic Wool Worsted – Natural Mix
Cascade 220 – Purple
Elann Peruvian Highland Wool – Green
Needles(s): US 7 – 4.5 mm
Casted On: December 9, 2012
Casted Off: January 23, 2013
Modifications: None
Buttons: I got them at G Street Fabrics. If you can believe it, this was a hard sweater for which to find buttons. I ended up with a pretty basic button, which is good given the smallness of the recipient.
I sent it out to my friend's house and then I got the PICTURES. Look at lil Emily!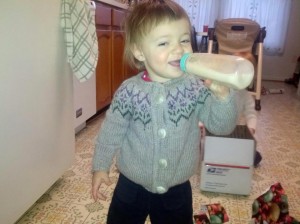 There she is…keepin' it real.
Finally Lil Mikey's Grandpa Cardigan
First off, making a cardigan named a Grandpa Cardigan for a fourteen month old kinda cracked me up. It cracked up his mom too, my cousin's fabulous wife, Jeannie.
Pattern: Gramps Cardigan by Kate Oates
Yarns(s): KnitPicks' Main Line Yarn
Colorway(s): dark blue
Needles(s): US 6 – 4.0 mm & US 7 – 4.5 mm
Casted On: January 27, 2013
Casted Off: February 19, 2013
Modifications: None
Buttons:
I got the buttons off Etsy
here
. In
my picture
, they appear to be more grey but they weren't when I received them and that was a good thing! They were a blue-ish grey, which, as you can see, matches slightly better with the rest of the sweater.
Now darling Mikey, very much like his dad, my cousin, has issues staying still for photo time but here's a pic, nonetheless of the recipient wearing this sweater:
That's it for baby stuff for a while at least. It feels odd making baby
sweaters
as temps start to increase.
Next entry might be about hats, books, more socks or about a lil Monster I made…..